Our Story
Since its founding in 2008, NMTC Teshie has been dedicated to expanding and sharing knowledge, inspiring innovation, and preserving cultural and scientific information for future generations.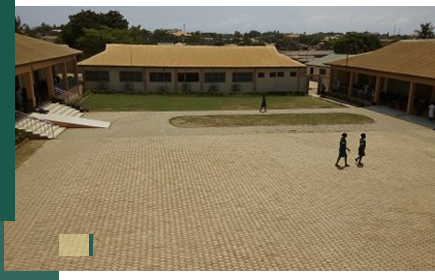 NMTC Teshie's reach is both local and international. It partners with its hometown of Teshie to strengthen the city's community and economy. And it engages with people and institutions across the globe in the quest to promote cultural understanding, improve the human condition, delve more deeply into the secrets of improving health, and train the next generation of world leaders.
About Principal Theresa J. A. Antwi
Theresa Abena Jamebe Antwi is Registered Nurse-Midwife with over 26 years working experience. Theresa is conscientious and thorough. She has facilitated both basic and continuing professional education for more than 17 years for Nurses and Midwives across the nation. 
Theresa believes that Nurses and Midwives must have the requisite competencies and exhibit professional behaviours to ensure optimal satisfaction in consumers of their services.

Theresa is a product of University of Ghana and possesses M Phil (Adult Ed.), BA (Hons), RM, RN, FWACN, AND FGCNM. She has a Postgraduate Training in Neonatal Nursing from the Japanese College of Nurses. She believes in professional development and lifelong learning which are enshrined in the principles of Adult Learning; the foundation framework for the design of the curriculum for the Ghana College of Nurses and Midwives.
Theresa's interest is in Family Centred Developmental Support and Care in the Management of Pre-term Neonates.
Ms. Antwi served on the Governing Council of the Nursing and Midwifery Council from 2009 to 2015. She is Principal of Nursing and Midwifery Training College, Teshie and the immediate Past Faculty Chairperson for Neonatal Intensive Care Nursing.
Mission
NMTC Teshie is devoted to excellence in teaching, learning, and research, and to developing leaders in many disciplines who make a difference globally. The College, which is based in Teshie, Tsui Bleoo, has an enrollment of over 1,000 students offering programmes in RGN, RM, NAC & PNAC. NMTC Teshie has more than 5,000 alumni around the world.
REGISTERED GENERAL NURSING
NURSING ASSISTANTS' CLINICAL
REGISTERED MIDWIFERY
POST NAC/NAP MIDWIFERY
To train competent and vibrant nurses and midwives who will contribute to the delivery of quality healthcare in and outside Ghana through a range of innovative teaching and learning activities that engage students both in the classroom and the settings.
To be recognized as a centre of excellence and vibrant health professionals who will positively influence the delivery of quality healthcare nationally and internationally.
DISCIPLINE
EXCELLENCE
PROFESSIONALISM
HIGH ETHICAL STANDARDS
INNOVATION