Programs and Courses
NMTC-TESHIE prepares skilled nursing professionals with strong scientific knowledge and compassion rooted in the values of professional and social responsibility.
NMTC-TESHIE is on the cutting edge of a changing world, by weaving tradition with technology, to bring education for the betterment of the health of women and their families.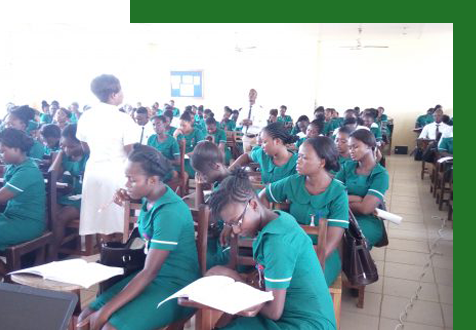 The college's curriculum has continued to evolve in response to the changing health needs of the society. The programme is for six-semesters leading to the award of Diploma in Registered General Nursing
Is a Diploma programme open to only female students. Designed for mid-career midwives, students will be prepared for leadership roles in clinical practice, education, policy or administration. The program is available over six semesters or three years.
Program Highlights
Collaborative teamwork – Interact with your peers while learning to collaborate on projects.

Practicum experience – Opportunity to gain hands-on career related experiences in a professional setting.
Learn more about your courses